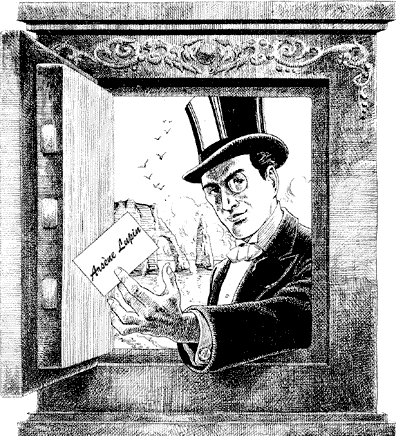 A TIMELINE
by André-François RUAUD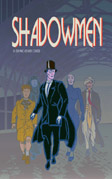 TO FIND OUT MORE, BUY THIS BOOK

1. The Andresy Years (1874-1899)

1874
Birth of Arsène Raoul Lupin. Actual birthplace unknown (not Blois as sometimes indicated, which was a red herring later made up by Lupin). Perhaps Andresy, a small town located in the Yvelines, near the river Seine, half-way between Paris and Normandy?

CLICK HERE FOR THE HISTORICAL CLUB OF ANDRESY WEBSITE

His father, Theophraste Lupin, is a gymnastics teacher who also teaches fencing and boxing. His mother is Henriette d'Andresy, who fell in love with Theophraste against her family's wishes. Baby Arsène is entrusted to a wet nurse, Victoire. However, he is often visited by, or in contact with, both parents.

1876?
Henriette separates from Theophraste, who has become a crook and a thief.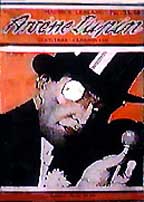 1880
Arsène lives with his mother, who is now going by her maiden name. She is a chambermaid working for room and board with haughty cousins of her family, the wealthy Dreux-Soubize, who own Queen Marie-Antoinette's famous necklace. To avenge his mother's humiliation, young Arsène steals the necklace ("Le Collier de la Reine" in Arsène Lupin, Gentleman-Cambrioleur).

1881
January - Sherlock Holmes and Dr. Watson move into 221B Baker Street.

?
Theophraste emigrates to the United States. Before he does so, however, he has trained young Arsene in various martial arts. In the U.S., Theophraste is later arrested and sent to jail, where he reportedly died (exact years unknown).
For Speculations About Theophraste Lupin's Ultimate Fate.

1886
Death of Henriette.

1888
August-November - Jack the Ripper murders in London.

Lupin's formative years. He studies law, medicine, acting, jiu-jitsu, etc.

1891
Reported death of Sherlock Holmes at the hands of Prof. Moriarty at the Reichenbach Falls.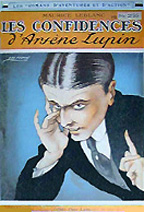 1892
Lupin tackles the case of the Imberts' safe, one of his first major criminal enterprises ("Le Coffre-Fort de Mme Imbert" in in Arsène Lupin, Gentleman-Cambrioleur).

1893
Lupin (using the alias of "Rostat") studies magic with stage magicians Dickson, then Pickmann; he also studies surgery with Dr. Altier at the Hopital Saint-Louis.

During the Summer, in Aspremont, near Nice, Lupin has an affair with an unknown woman, who later gives birth to his daughter, Geneviève. Geneviève is raised by her mother.

1894
In England, both A.J. Raffles and John Sinclair a.k.a, Lord Lister, embark upon their most famous cases.

Sometimes during the year, burglary of the castle d'Everlin under the name of "Count d'Essaur" [Service d'Ami]

January - In the South of France, Lupin, using the name "Raoul d'Andresy", meets Clarisse d'Etigues, with whom he falls madly in love.

March - In Normandy, Lupin asks Clarisse's hand from her father, the Baron Godefroy d'Etigues, who turns him down.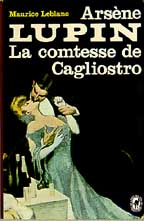 April-August - Lupin then comes face-to-face with, and eventually becomes the lover of, Josephine Balsamo, a.k.a. The Countess Cagliostro, who has already heard of him and of his reputation. From Josephine, he learns the four fabulous secrets of Queen Marie-Antoinette and Cagliostro: 1) ALCOR, or the Seven-Armed Candlestick (which he solves in the course of this adventure); 2) The Hollow Needle; 3) The God-Stone of the King of Bohemia; and 4) In Robore Fortuna (La Comtesse de Cagliostro).

Both Lupin and Leblanc believe that Josephine is really Josephine Pellegrini, the grand-daughter of the first Josephine Balsamo, born on 29 July 1788 in Palermo, from the notorious Joseph Balsamo, a.k.a. Cagliostro, and Josephine Tascher de la Pagerie, the maiden name of Josephine de Beauharnais, the future wife of Napoleon. But others believe she is the same Josephine, having gained a longer-than-normal lifespan thanks to the alchemical elixir of her sire. We shall never know for certain what the truth is.

August - After having defeated Josephine, Lupin becomes engaged to Clarisse.

October - Lupin marries Clarisse.

1895
Raffles allegedly dies in Italy.

January - Lupin and Clarisse have an stillborn daughter.

For Clarisse's love, Lupin conducts his criminal activities with discretion. He solves the mystery of the Hollow Nedle, and starts using it as a base of operations.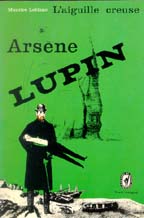 1896
Lupin puts together an organisation of carefully selected agents and accomplices. As architect "Maxime Bermont", he arranges for the construction of secret passages, entrances ands exists in various Parisian houses built by Clotilde Destange's father.

1897
May 4th. - Lupin saves many lives during the fire at the Bazar de la Charité in Paris.

1898
Bernard d'Andresy, one of Lupin's cousins, dies. Lupin uses his identity later.

1899
Lupin (using the alias of "Horace Velmont") falls in love with, but is spurned by, the Countess d'Origny ("L'Anneau Nuptial" in Les Confidences d'Arsène Lupin).

Lupin spends six weeks in Southern Algeria and befriends Jacques d'Emboise.

Ganimard unmasks a fake Lord Lister in Paris (revealed by Yves Varende in Les Ecumeurs de la Bourse).

November - Clarisse dies, giving birth to a son, Jean. Soon afterwards, the baby is kidnapped by men working for Josephine Balsamo.

Having lost his wife and his son, Lupin is now free to fully embrace his prodigious criminal career.


---

2. The Lupin Years (1900-1909)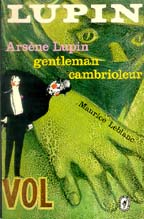 1900
Arsene Lupin strikes! Numerous cases reported: the burglaries of Crédit Lyonnais, of the Rue de Babylone, of the Castles of Armesnil, Gouret, Imblevain, and Groselliers, of Baron Schormann's, of Duke Everlin's, the issuance of counterfeit bank notes, insurance fraud, etc. Lupin becomes the personal nemesis of Surete inspector Justin Ganimard. Lupin even wins a bicycle race during the Paris Expo (April-November).

1901
Spring - The unidentified woman who was Geneviève's mother dies. Lupin entrusts the child to his old nurse, Victoire.

Summer - Lupin, travelling as "Bernard d'Andresy" on the transatlantic ship "Provence", romances Nelly Underdown and is eventually arrested by Ganimard in New York ("L'Arrestation d'Arsène Lupin" in Arsène Lupin, Gentleman-Cambioleur).

September - From his jail cell, Lupin organizes the burglary of Baron Cahorn's castle ("Arsène Lupin en Prison" in Arsène Lupin, Gentleman-Cambioleur).

Fall/Winter 1901-02 - Lupin, using the alias of "Chevalier Floriani", spends some time in the Vatican, then in Palermo, where he meets his cousin Dreux-Soubize.

1902
January - Lupin escapes during his trial ("L'Evasion d'Arsène Lupin" in Arsène Lupin, Gentleman-Cambioleur). Murder of the Countess d'Andillot

March - Maurice Leblanc first meets Lupin, posing as "Jean Daspry". Lupin, posing as "Guillaume Berlat", solves the mystery of the Paris-Rouen Train ("Le Mystérieux Voyageur" in Arsène Lupin, Gentleman-Cambioleur).

April - As "Horace Velmont" again, Lupin meets the owner of Thibermesnil Castle at the Dieppe Casino.

May - As "Chevalier Floriani", Lupin tells the Dreux-Soubize the truth about the disappearance of the Queen's Necklace stolen in 1880, and arranges for its return ("Le Collier de la Reine" in Arsène Lupin, Gentleman-Cambrioleur).

June - Lupin tells Leblanc about his role in the recovery of the stolen "Seven of Hearts" sub-marine plans; Leblanc becomes his official biographer ("Le Sept de Coeur" in Arsène Lupin, Gentleman-Cambrioleur).

July - Lupin solves the murder of the Countess d'Andillot ("La Perle Noire" in Arsène Lupin, Gentleman-Cambioleur).

Lupin burglarizes Thibermesnil Castle, and meets Nelly Underwood again. But more importantly, and for the first time, he crosses sword with Sherlock Holmes.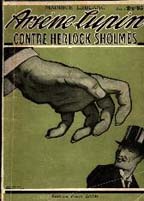 (Note: For copyright reasons, the name of "Sherlock Holmes" and "Dr. Watson" were changed to "Herlock Sholmes" and "Dr. Wilson"; However, we have retained the original names in this article.)

Holmes meets Lupin only for a brief time, unaware of who he is. Called in to solve an ancient riddle, Holmes succeeds but only to find out that Lupin has slipped in the night before and got away with the treasure. However, having anticipated that the riddle would be easily solved by the great detective, Lupin, as a mark of respect and admiration, has left his car waiting for Holmes at the exit of the secret tunnel.

This meeting marks the beginning of a very stormy relationship between the two characters. As Lupin later confides to Leblanc, when he met Holmes, he felt scrutinized to the core of his being and realized at once that, should he meet the Great Detective again, Holmes would recognize him, whatever the disguise ("Sherlock Holmes Arrive Trop Tard" in Arsène Lupin, Gentleman-Cambrioleur).

September-December. Lupin faces another prodigious adversay, the ruthless Daubrecq, a member of French Parliament who holds a list of 27 names implicated in a financial scandal, the disclosure of which could create much ruin and chaos (Le Bouchon de Cristal).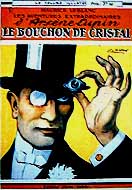 1903
January-March - To save young Gilbert and his mother, Clarisse Mergy, for whom he feels a hopeless passion, Lupin eventually defeats Daubrecq and reclaims the list of 27. Soon afterwards, Lupin arranges for Gilbert's escape from the Island of Ré. Gilbert later moves to Algeria, marries an Englishwoman, and has a son named Arsène (Le Bouchon de Cristal).

March-June - Lupin marries Jacqueline de Sarzeau-Vendôme ("Le Mariage d'Arsene Lupin" in Les Confidences d'Arsene Lupin).

August - Jacqueline realizes that her marriage is a lie, and chooses instead to become a Dominican nun ("Le Mariage d'Arsene Lupin" in Les Confidences d'Arsene Lupin). Lupin helps the Countes d'Origny ("L'Anneau Nuptial" in Les Confidences d'Arsène Lupin).

August- September - Lupin almost becomes the victim of the Dugrivals' diabolical trap ("Le Piège Infernal" in Les Confidences d'Arsene Lupin). Another great British detective (Carados?) fails to solve that mystery.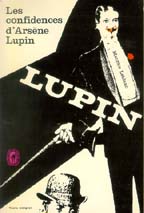 October - Lupin commits a particularly clever robbery at Heberville ("Le Fétu de Paille" in Les Confidences d'Arsene Lupin), while the same month, Sherlock Holmes announces his retirement.

November - Lupin entrust Ganimard with the case of the "Red Silk Scarf" ("L'Écharpe de Soie Rouge" in Les Confidences d'Arsene Lupin). During their conversation, he brags about being overworked: burglaries in London and Lausanne, a missing child case in Marseilles, and the rescue of a young woman in peril.

December - The last mention refers to the case of Jeanne Darcieux, whom Lupin, using the alias of "Paul Daubreuil", saves from a diabolical scheme ("La Mort qui Rôde" in Les Confidences d'Arsene Lupin). By stealing a valuable desk from Mr. Gerbois, Lupin unwittingly puts in motion a chain of events that will bring him in conflict again with Sherlock Holmes. Lupin closes the case of the "Red Silk Scarf".

1904
February - Lupin deals with the matter of the winning lottery ticket found in Mr. Gerbois' stolen desk ("Numero 514 Serie 23" as part of "La Dame Blonde" in Arsene Lupin contre Sherlock Holmes).

March - Lupin's mysterious accomplice, the so-called "Blonde Lady", is framed for the murder of Baron d'Hautrec.

April - Lupin, using the alias of "Captain Jeanniot", helps the Heirs of Ernemont ("Le Signe de l'Ombre" in Les Confidences d'Arsene Lupin).

August - The case of the murder of Baron d'Hautrec resurfaces: the Baron's blue diamond is stolen at Castle de Crozon. Ganimard investigates fruitelessly.

September - Lupin organizes the burglary of the Castle of Charmerace (Arsene Lupin - Pièce en 4 Actes). Sherlock Holmes is summoned to find the Blue Diamond ("Le Diamant Bleu" as part of "La Dame Blonde" in Arsene Lupin contre Sherlock Holmes).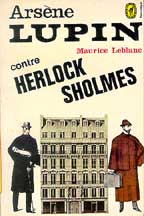 October - Sherlock Holmes and his biographer, Dr. Watson, have a chance meeting with Lupin and Leblanc in a Paris restaurant. The two foes take each other's measure and the reader is led to the conclusion that, although the law made these two enemies, they could very well have been friends under different circumstances. Holmes eventually discovers that Lupin has been using secret passages built in the houses he had designed himself as Maxime Bermont in 1896.

The story ends with many twists: first, Lupin manages to outwit Holmes by having him captured and shipped back to England; but as he is himself ready to escape the following day, whom does he find barring the way but Holmes, who tricked the captain of the ferry by moving the clock's hand, then managed to take the train back to Paris in time to stop Lupin! The great detective deliveres the gentleman burglar into the hands of Ganimard, and leaves. Whereupon Lupin makes yet another daring escape and then is there at the station to say good-bye to Holmes ("La Dame Blonde" in Arsene Lupin contre Sherlock Holmes).

1905
November 1904-March 1905 - Lupin leaves France and travels successively to Uruguay, where he fails to save the life of the Duke of Charmerace, whose identity he borrows later, Antarctica, Saigon, where he notices an obscure civil servant named Lenormand, whose identity he will also appropriate, and finally Armenia and Turkey, where Lupin fights and defeats the Red Sultan.

April - Lupin arrives in Marseilles. Lupin concludes the Ernemont affair ("Le Signe de l'Ombre" in Les Confidences d'Arsene Lupin) and thwarts the Baron Repstein's evil scheme ("Les Jeux du Soleil" in Les Confidences d'Arsene Lupin).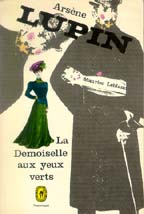 April-August - Lupin becomes involved in a quest for the secret of the Fountain of Youth, a mineral water source hidden under a lake in the Auvergne, which is sought by Inspector Marescal and his nemesis, the eponymous green-eyed beauty, Aurelie d'Asteux, and Constance Bakefield, a blue-eyed beauty, the daughter of a British diplomat and the head of a daring gang of thieves, a British female Lupin. Constance is unfortunately murdered, and Aurelie later becomes the famous actress Lucie Gautier (La Demoiselle aux Yeux Verts).

November - As "Baron d'Enneris", Lupin steals a famous emerald ("Le Cabochon d'Emeraude" - uncollected).

1906
November 1905-August 1906 - Lupin adds one more identity to his repertory: that of seedy private eye Jim Barnett. With the unwilling assistance and sometimes opposition of eager young inspector Theodore Bechoux, a former protege of Gamimard, Lupin-as-Barnett solves nine mysteries (L'Agence Barnett & Cie). Lupin also uses the alias of "Mr. Raoul", residing at 63, Quai Voltaire in Paris. (Famous French hero Bob Morane will later live on the QuaI Voltaire too.) In August, Lupin still posing as Barnett solves the mystery of the Broken Bridge ("The Bridge That Broke" -- short story included in the English translation of L'Agence Barnett but unpublished in French.)

July - Lupin uses the alias of "Don Luis Perenna" for the first time to buy the Castle of Volnic near Vichy, and solves the murder of Elizabeth Hormain, outwitting inspector Gorgeret in a true "Jim Barnett" fashion (La Femme aux Deux Sourires).

Summer - Lupin has an affair witrh Queen Olga of the Balkan principality of Borostyria (which may, in fact, be Montenegro) (La Femme aux Deux Sourires).

1907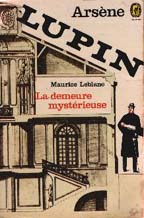 January or February - Queen Olga gives birth to Lupin's illegitimate son. The name of Lupin being derived from the same root as "lupus", i.e.: wolf, it has been theorized that Lupin and Olga's son was christened after his father, and after anglicizing his name and moving to America, became the famous detective, Nero Wolfe (La Femme aux Deux Sourires).

February/March - Operating as "Jean d'Enneris", Lupin investigates the kidnappings of Regine Aubry and Arlette Mazolle and, in spite of Bechoux' efforts, solves the mystery of the Hotel Melamare (La Demeure Mystérieuse).

June-September - Lupin also continues to use the alias of "Duke of Charmerace" for various other illegal enterprises. First appearance of Pere Charolais. After another daring escape from Ganimard, Lupin flees to India with Sonia Krichnoff. (Arsene Lupin - Pièce en 4 Actes).

October 1907-March 1908 - Various exotic adventures in India and Tibet, where Lupin uses the alias of "Hubert d'Andresy".

1908
March - Lupin returns to France and, using the alias of "Hubert d'Andresy" and "Colonel Sparmiento" solves a mysterious affair ("Edith au Cou de Cygne" in Les Confidences d'Arsene Lupin).

June - Lupin challenges Holmes again in the case of the Imblevalle Robbery. This time, the ending sees Lupin and Holmes refusing to leave a sinking boat, each wanting the other to be the first to display a sign of weakness. Eventually, Holmes is rescued by the police, while Lupin is believed to have drowned. But Lupin pops up again on the ferry crossing the English Channel and, this time, Holmes lets him go rather than drag an innocent girl into the clutches of the law ("La Lampe Juive" in Arsene Lupin contre Sherlock Holmes).

July - Sonia Krichnoff is killed in unrevealed circumstances.

1909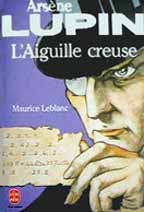 April-June - Lupin's latest round of burglaries catches the attention of gifted university student and amateur detective Isidore Beautrelet, who becomes fascinated by the mystery of the Hollow Needle. The "Needle" is a huge natural rock formation off the Normandy Coast near Etretat. In his novel, Leblanc postulates that it is hollow and housed the secret treasures of the Kings of France. It is the second secret of Cagliostro (L'Aiguille Creuse).

Soon, Lupin faces not only Beautrelet and Ganimard, but also Sherlock Holmes, who has been summoned by the baffled police. Lupin also falls in love with the beautiful Raymonde de Saint-Veran, initially believed to be his victim (L'Aiguille Creuse).

June-October - For a while, Lupin seems to have the upper hand. His red herrings have deceived his foes. He has Holmes and Ganimard kidnapped, and Beautrelet almost killed. He fakes his own death and that of Raymonde. As "Louis Valmeras", he marries Raymonde in October, then decides to "go straight" and live a peaceful life, retired from crime (L'Aiguille Creuse).

Autumn - Case of L'Homme à la Peau de Bique.

November-December - But Beautrelet, Ganimard and Holmes are not so easily thwarted. Beautrelet and Holmes end up solving the mystery of the Needle, separately. During the final battle, during which the Needle is surrounded by the French Navy, Holmes captures Raymonde, who has been, until then, unaware of her husband's real identity. Moved by the irresistible compulsion to stop Lupin, Holmes blurts out the truth. A shocked Raymonde attempts to escape. Lupin shoots first. Chaos ensues. In the resulting gun battle, Raymonde is killed when she throws herself in front of Lupin to save him from a bullet fired by Holmes. Holmes is stunned by this unexpected and unwanted tragic development; Lupin is wracked with grief. The two giants grapple briefly, but Lupin gets away (L'Aiguille Creuse).


---

3. The Sernine Years (1910-1913)

After Raymonde's death, Arsene Lupin, as such, seems to vanish from the public scene, at least until 1912. But Lupin himself is not inactive.

In reality, he seeks redemption under the alias of "Mr. Lenormand". As Lenormand, he becomes such an outstanding policeman that he is promoted to the position of Head of the Surete after the death of Mr. Dudouis. Among Lenormand's greatest successes are the resolutions of the following cases: the Denizou Affair, the Credit Lyonnais robbery, the attack of the Paris-Orleans train, the murder of Baron Dorf, the fire at the Louvre, and the murder of Aubertet, a member of the French Parliament. (The last case was recounted by Boileau-Narcejac in Le Serment d'Arsène Lupin.)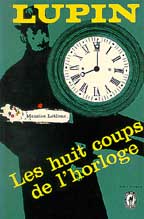 1910
As "Raoul de Limezy", Lupin defeats the criminal mastermind who operates under the name of La Griffe (The Claw) (revealed by Boileau-Narcejac in Le Second Visage d'Arsène Lupin.)

June-October - As "Raoul d'Avenac", Lupin is summoned by his old foe Bechoux to Normandy to solve the seemingly impossible murder of M. Guercin and the ancient secret of a local river (La Barre-Y-Va).

1911
Under the alias of Russian "Prince Sernine", Lupin intervenes in the affair of the Powderkeg (revealed by Boileau-Narcejac in La Poudrière.)

September-December - Still under the alias of "Prince Sernine" (or "Renine"), Lupin teams up with Hortense Daniel in eight thrilling adventures, culminating with a brief love affair (Les Huit Coups de l'Horloge).

1912
April-June - The murder of millionaire Rudolf Kesselbach in Paris begins the prodigious affair of "813", Lupin's greatest epic. Kesselbach's secret may lead to the redrawing of the political map of Europe. Lupin's adversary is the mysterious "L.M.", or L de Malreich, a more-than-human, black-clad, merciless killer, whom Lupin refers to as the "Monster" or the "Vampire." L.M. eventually unmasks Lupin who was hiding behind the guise of Lenormand, and arranges for him to be arrested (813).

July-December - Lupin is thrown in jail, but continues the fight from his cell. He learns that the Kaiser has called upon Sherlock Holmes to solve the mystery of "813", but the great detective fails to solve the riddle. In August, the Kaiser arranges for Lupin to be freed. Lupin eventually finds the solution, but is outwitted again by Malreich. (Fairness forces one to acknowledge that Lupin solves the mystery in circumstances that may have given him an edge over Holmes.) (813)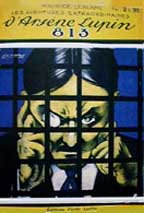 1913
January-April - The "813" saga continues. Back in France, Lupin finally defeats Marcheich. (Or has he?) Devored by megalomaniacal ambition, he uses his own daughter, Geneviève, to further his plans, aginst Victoire's wishes. He hopes to marry her to Pierre Leduc, the heir to the Duchy of Deux-Ponts-Valdenz. But Lupin's scheme eventually collapses: instead, Leduc falls in love with Dolores Kesselbach, whom Lupin also loves. Tragedy ensues, resulting in the deaths of both Dolores and Leduc, and the permanent alienation of Genevieve. A thoroughly deprssed Lupin fakes his own death and disappears (813).

June - As a coda, Lupin meets with the Kaiser again in Italy; then, intent on killing himself, he throws himself off a cliff and into the Mediterranean. But he survives, and decides to join the French Foreign Legion, as "Don Luis Perenna" (813).

Curiously, 1913 is also the year when John Sinclair, a.k.a. Lord Lister, retires.


---

4. The Perenna Years (1914-1919)

1914
June - As "Raoul d'Apignac", Lupin solves the Secret of Eunerville (revealed by Boileau-Narcejac in Le Secret d'Eunerville).

World War I begins.

November-December - Lupin accomplishes various secret missions behind enemy lines for the French government. One of his aliases is "Monte-Cristo". He helps Paul Delroze thwart a nefarious German plot (L'Eclat d'Obus).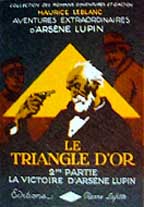 1915
April - Still operating as "Don Luis Peranna", Lupin helps locate 300 milion in gold that had been stolen by the cunning and evil Essares-Bey; he befriends war veteran Patrice Belval (Le Triangle d'Or).

June-July - Back in Morocco, Lupin is captured by a Berber tribe; soon afterwards, he becomes their chief. With the Berbers' help, he eventually conquers Mauritania for France.

1916
Lupin organizes the colonization if his new "kingdom" in Mauritania. He gives away plots of land to some of his old companions. He meets and becomes friend with American millionaire Cosmo Mornington.

1917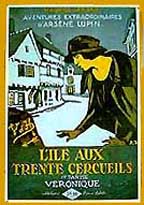 May - Lupin is summoned back to France by Patrice Belval; he uses his "Seven of Hearts" submarine to travel to the accursed island of Sarek off the coat of Britanny, to save Veronique d'Hergemont from the clutches of evil Vorski. On Sarek, Lupin solves the third secret of Cagliostro by discovering the "God-Stone" of the Kings of Bohemia: a radioactive stone that cures people and causes strange mutations (L'Île aux Trente Cercueils).

1918
Josephine Balsamo dies in Corsica, but not without having put in motion a diabolical plan of revenge.

1919
January - Lupin thwarts a plan to use millions of forged French Franc notes manufactured by Germany during World War I (revealed by Boileau-Narcejac in La Justice d'Arsène Lupin.)

February-June - As "Don Luis Perenna" again, Lupin returns to Paris to become the beneficiary of the inheritance of Cosmo Mornington; he unmasks the savage and mysterious killer who left the mark of his teeth on an apple. Lupin offers his Mauritanian Kingdom to France's President, Mr. Valenglay. In exchange, he receives a Presidential Pardon (Les Dents du Tigre).

September - Lupin marries Florence Levasseur, whom he met during the previous adventure, and retires to a rural setting (Les Dents du Tigre).


---

5. The Last Adventures (1920-1939)

1921
July - The fourth secret of Cagliostro, In Robore Fortuna, is solved by young circus artist Dorothée, in reality Yolande Isabelle Dorthée, Princess of Argonne. But could Lupin have been involved behind the scenes? (Dorothée, Danseuse de Corde).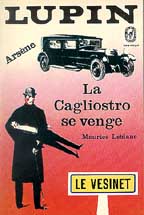 1923
May-June - Lupin poses as Victor Hautain, inspector of the Brigade Mondaine, to unmask Antoine Bressacq who is posing as... Arsène Lupin! (Victor de la Brigade Mondaine).

Lupin uses the alias of Hercule Petit Gris (La Dent d'Hercule Petit Gris).

There is, at this point, no mention of Florence Levasseur in Lupin's life. Did she die? Did she and Lupin separate? This question remains unanswered.

1924
January-September - As "Raoul d'Averny", Lupin finally stumbles upon Josephine Balsamo's diabolical revenge scheme. He and his son Jean, now called Felicien Charles, meet. First, Felicien is framed for a crime he did not commit. Then, he is pitted against his father by Josephine's former henchmen. In the end, Lupin saves his son, but does not tell Felicien that he is his father (La Cagliostrio se venge).

(Note: Judge Rousselain also guest-stars in Le Chapelet Rouge, another novel by Maurice Leblanc, in which Lupin does not appear.)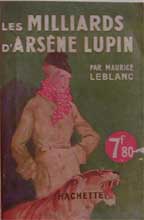 1926
January - Lupin spends some time in his beautiful estate of Aspremont on the French Riviera, where he once met Geneviève's mother; he has an affair with a beautiful woman named Faustine.

March - Lupin may be the man rescuing American journalist Patricia Johnston in New York. Lupin is in America to keep an eye on a mysterious organisation which covets his fortune (Les Milliards d'Arsène Lupin).

September-October - Lupin, now posing as "Horace Velmont", is in Paris with Victoire; he defeats the sinister organization, led by a man named Maffiano, and crosses swords with Bechoux again. He also romances Patricia Johnston. Then, he embarks for New York with her, and manages to give Ganimard the slip upon his arrival in America (Les Milliards d'Arsène Lupin).

1928-29
Using the alias of "Capitaine Cocorico", Lupin teaches poor children in Julainville, a northern suburb of Paris. As "André de Savery", he works as an archreologist in the French Ministère de l'Intérieur and falls in love with and marries Cora de Lerne, a relation of Dr. Lerne (Le Dernier Amour d'Arsene Lupin).

1932
August - Lupin robs a wealthy American tourist staying at the Hotel des Roches Grises in Étretat, and romamces a bathing beauty named Tourbillonnette (Unpublished sketch: "Un Quart d'Heure avec Arsène Lupin").

1936
February - Lupin himself narrates some of his adventures on French radio.

April - The radio magazine TSF Programme No. 292 publishes a photograph of Maurice Leblanc and Arsène Lupin, whose face is hidden behind a scarf.

1939
January - More radio conversations between Leblanc and Lupin.

1940
During the occupation of Paris by the Germans, Lupin, first posing as former head of the Sureté Lenormand, then as "Colonel Peer Linnaus", outwits Oberleutnant Von Keller (revealed
by Anthony Boucher in Arsène Lupin vs. Colonel Linnaus).

1941
November 6th - Death of Maurice Leblanc.

1950?
Lupin (or is it truly him?) returns as the mysterious "Gentleman in Black", for two cases, the first of which is dubbed "Seven Blows to the Heart". An aged Ganimard (named "Galican" in the novel for copyright reasons) and Sherlock Holmes (called "Aldock Hermès" for the same reasons) investigate his return (revealed by Claude Ferry in Le Gentleman en Noir, 2 vols.)


Article © 2002 André-François Ruaud. With grateful acknowledgements to Philippe Radé. All rights reserved.
Traduction & adaptation by J.-M. Lofficier.