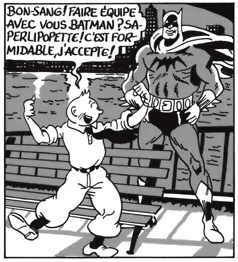 VS.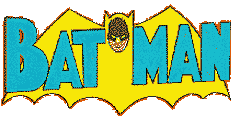 Written & drawn by: "Hergi" (Bournazel)


Tintin contre Batman [Tintin vs. Batman] is an unlicensed 28-page parody published in France by a notorious fan artist in the early 1990s.

In it, Tintin travels to Gotham City and, after an initial confrontation with Batman, teams up with the Dark Knight to rescue Milou (Snowy) from kidnappers.

Tintin vs. Batman is drawn in a satirical style, purposefully reminiscent of Herge's earlier Tintin works, Tintin in America and Cigars of the Pharaoh.
FOR MORE PASTICHES AND HOMAGES TO TINTIN

.

Tintin © 2003 Hergé; Batman © 2003 DC Comics. All rights reserved.