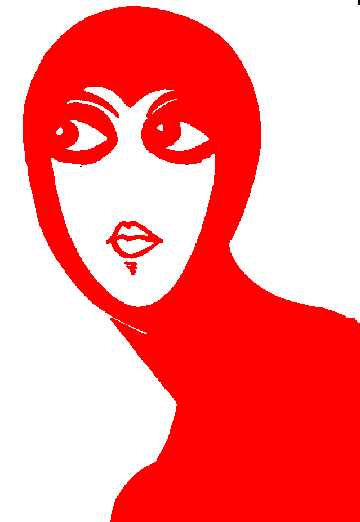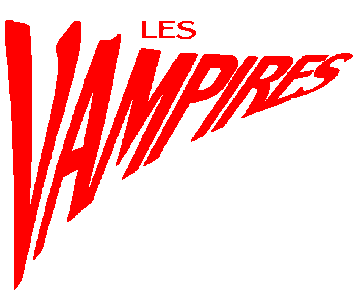 Les Vampires
(serial, B&W., 10 eps., 1915)
Written & Directed by: Louis Feuillade (1879-1925).

Les Vampires was launched by Gaumont to compete with the U.S. serial Les Mystères de New York, starring Pearl White (The Perils of Pauline). It was written and directed by Feuillade after Fantômas, but before Judex.

Les Vampires' success was due in great part to the character of Irma Vep, the head villainess, whose name is an anagram of "vampire," played by Musidora -- a voluptuous, dark-haired stage and music-hall performer who did all her own stunt work. Musidora (who occasionally posed naked) virtually defined female beauty for the decade, and her character, identified mostly by her black tights and black mask, slinking down corridors and escaping over rooftops, defined the popular archetype of the super-villainess femme fatale for decades to come -- Catwoman, etc.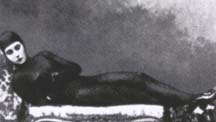 FOR MORE ABOUT LOUIS FEUILLADE.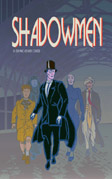 TO FIND OUT MORE, BUY THIS BOOK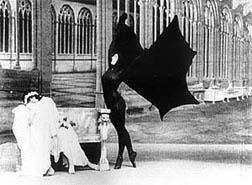 THE EPISODES
1: La Tête Coupée (The Cut-Off Head)
Philippe Guerande (Edouard Mathé), a reporter working for "Le Mondial", and his friend Oscar Mazamette (Marcel Levesque), investigate the muder of Inspector Dural, decapitated by the sinister gang known as the "Vampires". The leader of the gang, the "Great Vampire" (Jean Aymé), is unmasked but manages to escape.

2: La Bague qui Tue (The Poisoned Ring)
Dancer Marfa Koutiloff (Stacia Napierkowska) tells Guerande she will reveal the secrets of the Vampires, but the Great Vampire kills her with a poisoned ring.

3: Le Cryptogramme Rouge (The Red Cryptogram)
Guerande meets cabaret singer Irma Vep (Musidora); he also attempts to decypher a mysterious notebook he stole from the Vampires.
4: Le Spectre
The Vampires fight another criminal, Moreno (Fernand Herrman), who tries to steal their loot, but Guerande engineers Moreno's arrest.

5: L'Évasion du Mort (Deadman's Escape)
Moreno fakes death and escapes from jail. Guerande is taken prisoner by the Vampires but escapes as well. The Great Vampire organizes a deadly ball to steal his guest's valuables, but is outwitted by Moreno.

6: Les Yeux qui Fascinent (The Mesmerizing Eyes)
The Vampires are after a treasure in the Forest of Fontainebleau. Moreno hypnotizes Irma Vep into killing the Great Vampire. Then Moreno takes over the gang.
7: Satanas
The heretofore unknown Lord of the Vampires, Satanas (Louis Leubas), reveals his existence. He kills Moreno by bombarding the restaurant where he was eating. He then try to steal the fortune of millionnaire Geo Baldwin (Emile Keppens) but is thwarted by Guerande and Mazamette.

8: Le Maître de la Foudre (The Master of Lightning)
Irma Vep is captured by the Police but Satanas arranges her escape; however he, too, is caught. He kills himself in his jail cell.
9: L'Homme des Poisons (The Man Who Knew Poisons)
Enter the new Lord of the Vampires: Venenos (Frederik Moriss). He tries to poison Guerande but his plot fails.

10: Les Noces Sanglantes (The Bloody Wedding)
Guerande finally marries his girl-friend (Louise Lagrange). The Vampires plot against the couple, but are thwarted by Mazamette. The gang is killed or captured.

Note: Though Irma Vep is killed at the end of Les Vampires, her gang reformed in Nice in Feuillade's 1918 sequel Tih Minh, where it conspires to avenge her death and take over the entire world.
Book Adaptation


A 7-volume novelization of Les Vampires by Feuillade and George Meirs was published in 1916 by Tallandier (as 4 paperbacks followed by 3 magazine-size issues).



LINKS TO OTHER SITES:

"IRMA VEP", A 1996 FRENCH FILM BY OLIVIER ASSAYAS WHICH IS AN HOMAGE TO "LES VAMPIRES" WITH MAGGIE CHEUNG PLAYING IRMA VEP.