| | |
| --- | --- |
| | GENEALOGICAL TREE OF THE FRENCH WOLD NEWTON UNIVERSE |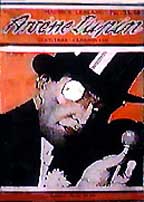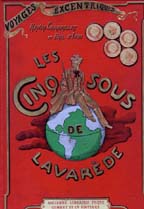 THE LUPINS
Lavarède / Ardan Families

: character present at Wold Newton in 1795.
characters made up for the purpose of connections.
links (not hyperlinks - return to

) to another genealogical tree.
Name on same level may not always be on same age group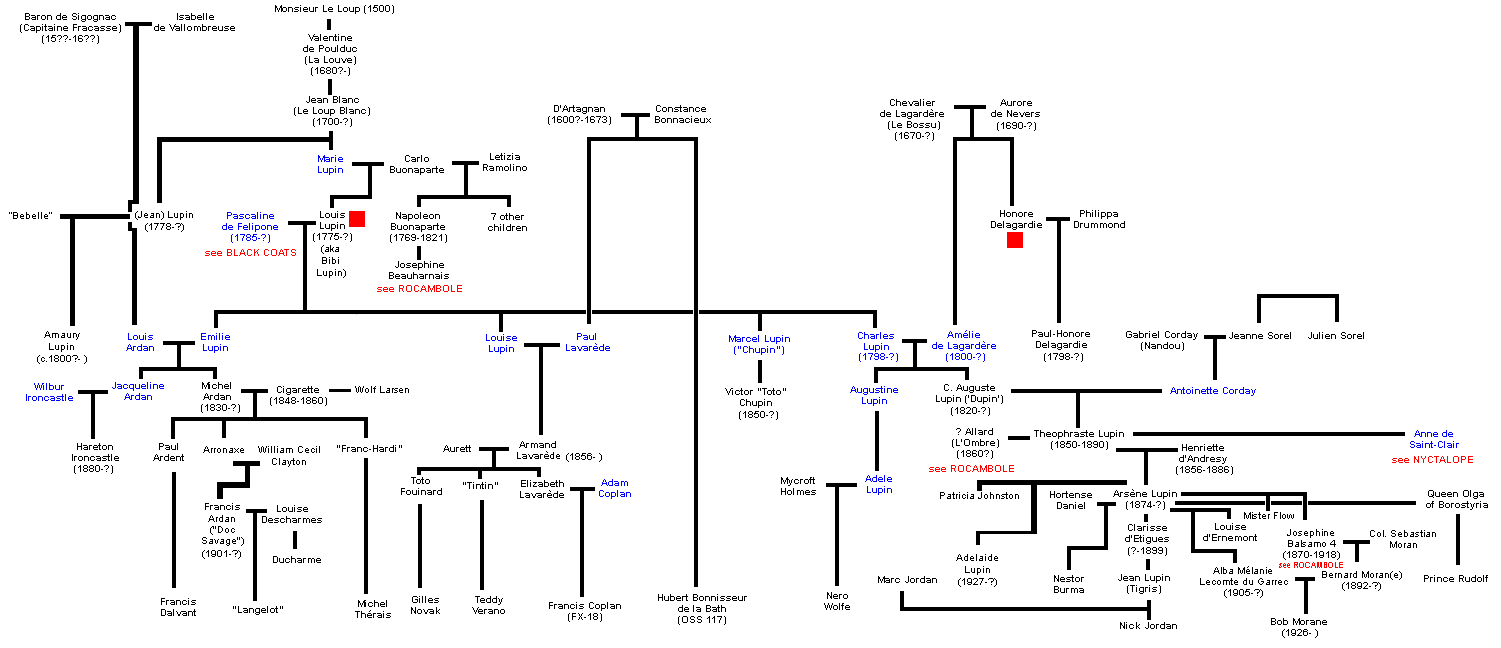 SOURCES:

This is one of the most complex family trees in the French Wold Newton Universe. We shall begin with the primary ancestors, from the 1500s and 1600s.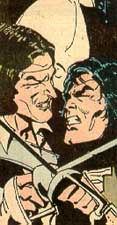 - The lupin, like the scarlet pimpernel, is a wild flower. Unlike the scarlet pimpernel, which is associated with curing poisons and warding off against evil, the lupin, however, is associated with wealth and power. The name lupin also derives from the latin word "lupus" (wolf), as in the adjective "lupine" (wolf-like). Some scholars have speculated that the Lupin family tree was tainted with wolf's blood, hence their name. Whether this refers to their savagery, their outlawish natures ("wolfshead"), or actual cases of werewolves in the lineage, is unknown. In any event, a primary ancestor of the Lupin line is the sinister Monsieur Le Loup, a fierce bandit and swordsman from the 16th century, who fought and ultimately was defeated by the Puritan Solomon Kane, whose life was recordeed by Robert E. Howard.

We have also established that the Lupin family traces its ancestry first to Valentine de Poulduc, a.k.a. La Louve (The She-Wolf), daughter of Guy de Rohan Poulduc, a notorious swordswoman from the 17th century. Valentine's life was chronicled by Paul Féval in La Louve; she belonged to a secret society of "wolfsheads" and so did her descendent, the albino Jean Blanc, a.k.a. Le Loup Blanc (The White Wolf), whose life was narrated by Féval in Le Loup Blanc.

Three more historical families are to be added to this family tree:
- the renowned Baron de Sigognac (a.k.a. "Captain Fracasse") and his eventual wife, Isabelle de Vallombreuse, whose lives were recounted by Théophile Gautier in his superb swahbuckler classic, Le Capitaine Fracasse.

- we do not need to introduce D'Artagnan and his mistress, Constance Bonnacieux, who starred in Alexandre Dumas's classic novel, Les Trois Mousquetaires.

- finally, the notorious swordsman Lagardère, who hid under the alias and disguise of a Hunchback, and his wife, Aurore de Nevers, whose exploits were told by Paul Féval in Le Bossu -- the De Lagardères became the ancestors of the notorious Delagardies, studied at length by Philip Jose Farmer and others.

From this family tree, we were able to trace two descendents: Jean Lupin and Marie Lupin.

The life of Jean Lupin, born in 1778, was chronicled by Honoré de Balzac. The son of the last steward of the Soulanges in Bourgogne, he became manager of the domain, notary and deputy mayor of the city of Soulanges. He was married to a woman nicknamed "Bebelle" (the only daughter of a salt-merchant enriched by the Revolution) and had one son, Amaury Lupin, who, in 1822, was sent to Paris by his father to study the notary's profession. There, he committed some professional "indiscretions" and went into debt.

As for Marie Lupin, she had an affair with Carlo Buonaparte who was at the time married to Letizia Ramolino and had eight children with his wife, including the infamous Napoleon Buonaparte. That bastard son was Louis Lupin (born c. 1775) who kept his mother's name was was the custom.

Farmer identified Louis Lupin as one of the members of The Conspiracy who met at Wold Newton on December 13, 1795, when Lupin was about 20, posing as a footman. We believe that Louis Lupin was Napoleon's older half-brother. Napoleon later married Josephine de Beauharnais, née Tascher de la Pagerie, the mother of Josephine Balsamo. (For more on this descendence, see our article on Joseph Balsamo, and the family trees of Rocambole and Joseph Balsamo.)

After Wold Newton, Louis Lupin, a.k.a. "Bibi Lupin", later served some time in jail, then became chief of the French secret police between 1819 and 1830, as recounted again by Honoré de Balzac (thanks to scholar Rick Lai). He personally arrested his old gallery-mate and rival Jacques Collin, alias Vautrin, at Mme. Vauquer's boarding-house . Under the alias of "Gondureau", Bibi-Lupin made overtures to Mlle. Michonneau, one of Mme. Vauquer's guests, and through her, obtained the proof of Vautrin's real identity. Iroinically, ot was Vautrin who, in 1830, became Bibi-Lupin's successor as chief of the French secret police.

Louis Lupin, not surprisingly, married Pascaline de Felipone, the daughter of a notorious criminal Corsican family. (See the family trees of the Black Coats and Rocambole for more on the Felipones.) We have postulated that they had four children: Emilie, Louise, Marcel and Charles.

1) Emilie Lupin: Emilie Lupin married into the Ardan family -- descendents of the Sigognacs identified above, and fathered the notorious space pioneer Michel Ardan, whose exploits were chronicled by Jules Verne in De la Terre à la Lune. Michael Ardan married Cigarette, a former child heroine from the 1848 riots (whose story was recounted by Ouida in Under Two Flags), and their various descendents included:
- the renowned explorer, Hareton Ironcastle, whose life was first chronicled by J. H. Rosny Aîné in L'Étonnant Voyage d'Hareton Ironcastle, and later by Philip Jose Farmer in Ironcastle.

- super-powered crime fighter Paul Ardent, whose adventures werre recorded by Jean de La Hire in Les Aventures de Paul Ardent.

- a girl named Arronaxe (sometimes known as Arronaxe Larsen being a niece of Captain Wolf Larsen whose exploits were narrated by Jack London) who later married Willian Cecil Clayton and, in 1901, gave birth to the noted explorer Francis Ardan aka Clark Savage, Jr. whose prodious life was chronicled by "Kenneth Robeson". Doc Ardan fought the Asian mastermind Dr. Natas (Fu-Manchu) in the City of Gold and Lepers where he had an affair with Louise Ducharme, from whom would be issued the notorious Ducharme, as recounted by Guy d'Armen in La Cité de l'Or et de la Lèpre.

- boy-scout Franc-Hardi who explored the solar system in a ship designed by Engineer Korridès (another enemy of the Nyctalope), as revealed by Jean de La Hire in Les Grandes Aventures d'un Boy Scout.
Contemporary descendents of this line of fearless explorers include journalist Francis Dalvant (whose battles against Leonox are chronicled by Paul Béra), the young French secret agent known only as Langelot (whose adventures are recorded by Vladimir Volkoff), and the heroic teenager Michel Therais, first discovered by Georges Bayard.

2) Louise Lupin: Louise Lupin married into the Lavarède family, descendents of D'Artagnan and Constance Bonnacieux as mentioned above. The exploits of Armand Lavarède and his various relatives were chronicled in detail by Paul d'Ivoi in a series of novels.

(Interestingly, a branch of the Bonnacieux moved to Louisiana before the French Revolution and eventually became the Bonnisseur de la Bath -- one of their modern-day descendents, Hubert Bonnisseur de la Bath, worked for the OSS and the CIA as OSS 117,as recorded by Jean Bruce.)

Armand Lavarède and his wife Aurett had three children:
- Toto Fouinard who continued his family tradition of adventuring as chronicled by Jules Lermina in Toto Fouinard, le Petit Détective Parisien.

- "Tintin" (not to be confused with the comic-book hero), also nicknamed "The Little Parisian", whose exploits were recounted by R. M. de Nizerolles in Les Voyages aériens d'un Petit Parisien à Travers le Monde.

- Ernestine Lavarede, who married Adam Coplan, an American soldier who had remained in France after WWI, and fathered Francis Coplan, the notorious French secret agent FX-18 whose career was chronicled by Paul Kenny.
In addition to Francis Coplan, two other contemporary descendents of this line of intrepid investigators were journalist Gilles Novak (whose adventures were narrated by Jimmy Guieu) and private eye Teddy Verano (whose cases were recorded by Maurice Limat), who both fought strange and supernatural menaces.

3) Marcel Lupin: Little is known about Marcel Lupin, except that he changed his name to Marcel Chupin. However, the apple does not fall far from the tree, and his descendent, Victor "Toto" Chupin, also became a famous criminal investigator in the 1870s, as recounted by Emile Gaboriau. We have not further researched the descendents of Marcel Lupin.

4) Charles Lupin: Charles Lupin is, by far, the most interesting of all four children of Louis Lupin. First, he was reportedly an identical twin of Paul Honoré Delagardie, himself the son of Honoré Delagardie and Philippa Drummond. One may surmise that Louis Lupin may have had an affair with Philippa Drummond and may be the real father of both Paul Honoré and Charles Lupin? Or one may see a strange blending of genes as an unintended consequence of the Wold Newton meteorite? This was discussed by Philip José Farmer in Tarzan Alive.

In any event, Charles Lupin eventually married Amelie de Lagardère, a direct descendent of the Chevalier de Lagardère and Aurore de Nevers as identified above, therefore reinforcing the heroic De Lagardère genes. Charles and Amélie had two children:
- Augustine Lupin, who married an unidentified man from Montenegro, and fathered a daughter, Adèle Lupin, who had a dalliance with a young British Secret Service Agent named Mycroft Holmes (whose career was chronicled by Sir Arthur Conan Doyle) and bore him a son, Nero Lupin, who upon emigrating to the United States anglicized his name to Nero Wolfe. We of course know him from his exploits told by Archie Goodwin and preserved by Rex Stout.

- the somewhat mistanthropic but brilliant man known as C. Auguste Lupin, who was knighted and acquired a reputation as a solver of puzzles. American journalist Edgar Allan Poe changed his name to "Dupin" in order to protect his sources, but it indeed the same man. During one of his cases, C. Auguste Lupin met and eventually married Antoinette Corday, the daughter of Gabriel Corday (a brilliant actor, magician, and dwarf who went by the name of Nandou) and Jeanne Sorel (whose tale was told by Kay Nolte Smith in A Tale of the Wind). It is worth noting that Jeanne Sorel was herself a cousin of the notorious Julien Sorel whose life was chronicled by Stendhal in Le Rouge et le Noir.

Scholar Vincent Mollet researching Gerard Dole's investigation into the so-called "Dupin" family detemined that some of the adventures attributed to C. Auguste "Dupin" may have, in reality, happened to his father Charles, although it may well be that the two men are in fact one and the same?

C. Auguste Lupin and Antoinette Corday fathered Théophraste Lupin. Sadly, Theophraste grew up to become a modest gym teacher, doing some petty thievery on the side. Theophraste Lupin had three children, from three different women:
- In 1873, Theophraste met and fell in love with the young Henriette d'Andresy. Their son grew up to become the notorious Arsène Lupin whose exploits were chronicled by Maurice Leblanc. More about him below.

- In the mid-1880s, Theophraste Lupin, while working for Jean Roussel-Ballmeyer (see Lecoq family tree) in the United States (Ballmeyer's career was chronicled by Gaston Leroux in his Rouletabille novels), had an affair with Anne de Saint-Clair(who was using the spelling of Sainclair in America), the daughter of Roland de Clare, a.k.a. Coeur d'Acier and Nita d'Eppstein (whose lives were recounted by Paul Féval in Les Habits Noirs. Theophraste and Anne had one child, a boy named Jean Leo Sainclair, who grew up to become the crime-fighter known as the Nyctalope, whose adventures were chronicled by Jean de La Hire, and whose family tree is examined in detail in another document (see The Nyctalope family tree).

- The existence of a third child of Theophraste Lupin was recently revealed by historian Rick Lai. That child's mother was a mysterious female French Secret agent née Allard but known only as L'Ombre (The Shadow), a protegée of Erik, the Phantom of the Opera, whose existence was revealed by Gaston Leroux in Le Fantôme de l'Opéra. For more about L'Ombre, see the Gods & Monsters family tree. Theophraste and L'Ombre had two children: Kent Allard who, taking his mother's maiden name, becaming The Shadow (whose exploits were chronicled by Walter Gibson), and Jacques de Trémeuse, a.k.a. Judex (whose identity was exposed by Louis Feuillade) (For more about both, see the Rocambole family tree).

The focus of this family tree, however, is on the child of Theophraste Lupin and Henriette d'Andresy, the famous Arsène Lupin (whose life is timelined here). During his eventful life, Arsène Lupin had several marriages and romantic affairs, and sired several offsprings:
- a young Arsène Lupin had an affair with the notorious Josephine Balsamo III in 1894 (see the Rocambole family tree). Together, they fathered a child, whom Josephine abandoned. That child grew up to become Gaston Max, a famous detective whose life was chronicled by Sax Rohmer in The Adventures of Gaston Max.

- Arsène Lupin was married to Clarisse d'Etigues in 1894; she died in 1899, probably murdered by Josephine Balsamo III. Arsène and Clarisse's first child, a daughter, died at birth. Their second child, a boy, Jean, was kidnapped by Josephine, who raised him in Corsica (at the Convent of the Mercy of the Black Coats) to challenge his father, as recounted by Maurice Leblanc in La Cagliostro Se Venge. Jean Lupin eventually began to operate as "Tigris" in 1928 -- and his adventures were then chronicled by Marcel Allain.

(Jean Lupin's daughter married a son of Marc Jordan, the astonishing French detective who solved outlandish cases in 1914, and their offspring was Nick Jordan, a French secret service ace whose life was narrated by André Fernez.)



- In 1904, Arsène Lupin was briefly married to Jacqueline de Sarzeau-Vendôme, who chose to become a nun. As far as we know, they had no children.

- Soon after, Arsène Lupin had an affair with Louise d'Ernemont, who gave him a daughter, Alba Mélanie. During World War I, she met Robert Moran, the son of the notorious Colonel Sebastian Moran, who had moved to France after his family's disgrace (cf, the writings of Sir Arthur Conan Doyle). They had a son, Robert "Bob"Morane, whose exciting life has been chronicled by Henri Vernes.

- In 1906, Arsène Lupin had an affair with Queen Olga of Borostyria, who also fathered a child, whose grandson became Crown Prince Rudolf, who committed suicide after being outsmarted by British adventurer Simon Templar, a.k.a. The Saint, as recounted by Leslie Charteris in Getaway.

- In 1907, Arsène Lupin was married to Raymonde de Saint-Veran, who was accidentally killed during his battle with Sherlock Holmes at the Hollow Needle. As far as we know, they had no children.

- in 1911, Arsène Lupin had an affair with Hortense Daniel; they fathered one child, who was adopted by Hortense's husband, Jerôme Burma, and became known as Nestor Burma, France's Ace Detective, whose adventures were collected by Leo Malet.

- in 1916, Arsène Lupin married Florence Levasseur, who died or left him during World War I. As far as we know, they had no children.

- finally, in 1926, Arsène Lupin had an affair with American journalist Patricia Johnston, who also fathered a daugher, Adelaide, whose lifre has been chronicled by Win Eckert.