| | |
| --- | --- |
| | GENEALOGICAL TREE OF THE FRENCH WOLD NEWTON UNIVERSE |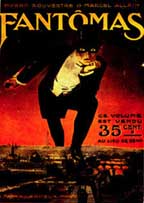 ROCAMBOLE & FANTÔMAS
Belcamp / Kergaz Families

: character present at Wold Newton in 1795.
characters made up for the purpose of connections.
links (not hyperlinks - return to

) to another genealogical tree.
Name on same level may not always be on same age group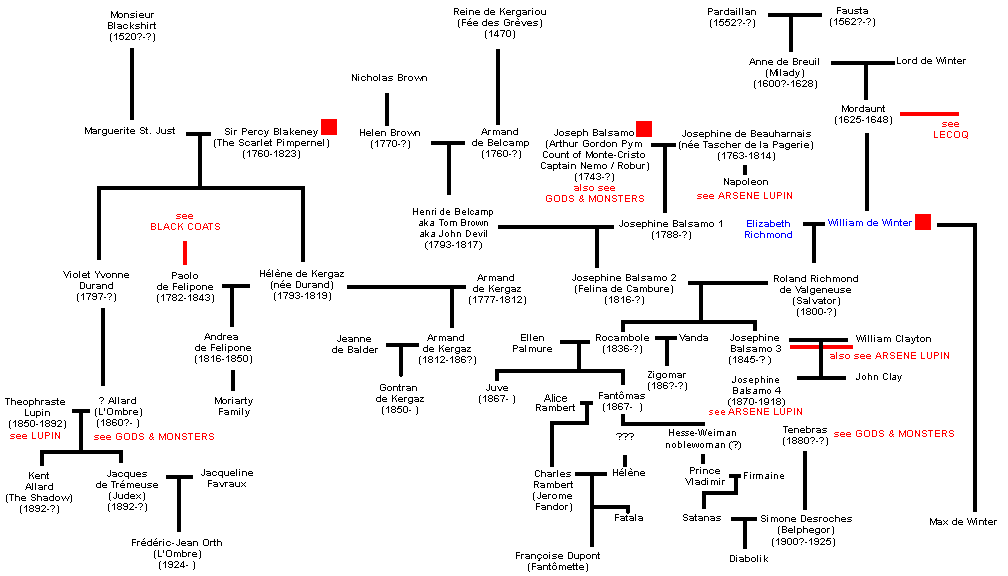 SOURCES:

This is one of the most complex family trees in the French Wold Newton Universe. We shall begin with the three primary branches, from the 1500s and 1600s.

- We have theorized that Monsieur Blackshirt (whose life was chronicled by Graham Jefferies) werre among the ancestors of Margerite St. Just, who became the wife of Percy Blakeney, a.k.a. The Scarlet Pimpernel, who was of course present at Wold Newton on December 13, 1795, and whose exploits were recounted by Baroness Orczy.

- Paul Féval's diligent research in the genealogies of the royal family of Britanny enabled us to connect the De Belcamp family (featured in Jean Diable) to Reine de Kergariou, the 15th century Queen of Britanny nicknamed the "Fée des Grèves" (Fairy Queen of the Beaches), through her son Aubry and his fiancée Jeannine, who killed the evil Otto Beringhem, the Iron Man, who had lent his supernatiural powers to Louis XI King of France in order to crush and annex Britanny. (All this is recounted by Féval in La Fée des Grèves and L'Homme de Fer.)

- Lastly, the famous swordsman Pardaillan and of his lover, Fausta, herself a descendent of the notorious Lucrezia Borgia, whose adventures were recounted by Michel Zevaco in his swashbuckling saga, Les Pardaillan, were among the ancestors of the notorious adventuress known as "Milady" (her real name was Anne de Breuil), who starred in Alexandre Dumas's classic novel, Les Trois Mousquetaires. Milady had a son, who used the alias of "Mordaunt". Mordaunt was killed in 1648 by the Comte de la Fère, a.k.a. Athos, in a sequence of events narrated in Dumas' Vingt Ans Apres.

Mordaunt himself had children who carried on his evil inheritance. One such descendent was an otherwise unidentified "beautiful woman" who was mentioned as a new addition to the High Council of the Black Coats in 1807 in Paul Féval's Les Habits Noirs and who went on to marry Albert Lecoq. (See the Lecoq family tree.) Another was William de Winter, the product of Milady's dalliance with the de Winters (cf. Les Trois Mousquetaires) who was also present at Wold Newton on December 13, 1795.

(A modern-day descendent was the tragic Max de Winter whose story was narrated by Daphné du Maurier in Rebecca.)

And then this already volatile mix, we find yet one more participant at the Wold Newton meeting of 1795: Joseph Balsamo, a.k.a. Cagliostro, Arthur Gordon Pym, Monte-Cristo, Nemo, etc. whose offsprings are reviewed in the Gods & Monsters family tree.

1) The Blakeney line: We shall only focus on two of the children of Sir Percy Blakeney and Marguerite St. Just: Violette Yvonne and Hélène, who were eventually adopted by the Durand family.
- Violette Yvonne eventually became the ancestor of the mysterious Allard woman known only as L'Ombre, who was trained by Erik (as revealed by Gaston Leroux in Le Fantôme de l'Opéra) and fathered two children with Theophraste Lupin (see the Lupin family tree): Kent Allard who, taking his mother's maiden name, became The Shadow (whose exploits were chronicled by Walter Gibson), and Jacques de Trémeuse, a.k.a. Judex (whose identity was exposed by Louis Feuillade). Judex eventually fathered Frédéric-Jean Orth, the modern-day Shadow, whose exploits are recounted by Alain Page.

- Hélène married Armand de Kergaz (I), a French nobleman from Britanny, who was murdered in 1812 during Napoleon's great army's Russian retreat by a young Italian captain named Paolo de Felipone, as revealed by Ponson du Terrail in the Rocambole saga. Paolo de Felipone was himself a son of the godfather of the Black Coats known as the Colonel and Anselma de Felipone (see the Black Coats family tree). Hélène had a son by her first husband, Armand de Kergaz (II). Then, after her husband's death, she married Paolo and had another son, Andrea de Felipone. Armand de Kergaz (II) eventually returned, exposed Andrea, forced him to flee to England and married Jeanne de Balder. While in England, Andrea took the alias of Irish baronet "Sir Williams", and joined the Black Coats, established since the 18th century by the Colonel and Fergus O'Breane a.k.a. the Marquis de Rio Santo. (All this was recounted by Ponson du Terrail and Paul Féval.) Some scholars have theorized that, during his stay in England in the early 1840s, Andrea's blood crossed into the Moriarty line.

2) The Belcamp /de Winter line: Paul Féval revealed in Jean Diable how Armand de Belcamp, while exiled in England, married Helen Brown, and fathered twins, Tom Brown, who became the criminal mastermind known as John Devil, and Henri de Belcamp (possibly the real John Devil?). Evil being attracted to evil, "John Devil" (whoiever he really was) married Josephine Balsamo (I), daughter of Joseph Balsamo and Josephine Tascher de la Pagerie, the futiure wife of Napoleon (as revealed by Maurice Leblanc in La Comtesse de Cagliostro). (Also see the Lupin family tree.)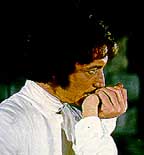 The child of John Devil and Josephine Balsamo (I) was Josephine Balsamo (II) a.k.a. Felina de Cambure, the She-Tigress of Paris, fashion designer by day, gang leader by night, whose nefarious exploits were recounted by Frédéric Soulié in La Tigresse de Paris.

Felina, in turn, had an affair with the bastard son of William de Winter (see above) and Elizabeth Richmond. That son was named Roland, and inherited the title of Lord Richmond de Valgeneuse. In 1823, using the alias of "Salvator", Roland fought the mysterious Head of the French Surete known as "Monsieur Jackal" as recounted by Alexandre Dumas in Les Mohicans de Paris. Salvator and Felina fathered two children:
- a daughter, Josephine Balsamo (III), a.k.a. The Countess of Cagliostro, who, according to Maurice Leblanc in La Comtesse de Cagliostro, met, fought, and had an affair with a young Arsene Lupin in 1894. (See the Lupin family tree.) According to Philip Jose Farmer, Josephine Balsamo (III) also had an affair with Sir William Clayton and fathered John (a.k.a Colonel) Clay.

- a boy, Joseph, who was abandoned by his mother and raised as an orphan by Maman Choupart, whom he later murdered. He grew up to become first a thief and murderer, a protege of Andrea de Felipone (whom he later murdered too), and then thanks to Baccarat (see the Nyctalope famiuly tree) redeemed himself and became a hero and a crime fighter. His nom de guerre was... Rocambole. His eventful life was recorded by Ponson du Terrail. Rocambole's real name should have been Joseph Richmond de Winter de Valgeneuse, which explains the facility of his exploits in London in 1866, where he was known as the "Man in Grey". The Richmonds eventually recognized Rocambole, although his past and lack of morals were understandably a great embarrassment to them. Rocambole himself fathered at least two children that we know of -- but what children they were!

- with his long-time companion young Vanda, Rocambole became the father of gipsy crimelord Zigomar, whose exploits were narrated by Léon Sazie.

- Rocambole had a liaison with British aristocrat Ellen Palmure (Palmer?) and fathered two bastard children who would grow up to become -- Fantômas and his nemesis, Juve. Ellen Palmure gave birth to the children in 1867 in Britanny under the alias of "Anna-Marie." Baby Juve was raised in a French public orphanage.


-- Young Fantômas was raised by Rev. Patterson (one of Ellen's acolytes and an old foe of Rocambole), kept at arm's length by the understandably ashamed Palmures and Richmonds; he displayed sadistic and sociopathic tendancies at an early age and eventually left England. Fantômas had three children:


-- First, he went to India where Rocambole had left a treasure to be reclaimed by his son; there he fathered a daughter, Hélène (born 1893) with an unidentified European woman who was at the time married to an Indian Prince. That daughter was taken to be raised in South Africa.

-- Fantômas then went to the German Principalty of Heisse-Weimar where he fathered a son, Vladimir (born 1894), with a local noblewoman.

-- After a stint in jail, he then went to New York where he might have had an affair with Alice Rambert, the wife of his business partner, Etienne Rambert, and may have been the biological father of her son, Charles Rambert (later Jerôme Fandor) (born 1895).


Fantômas then returned to South Africa in 1899 (to check on Helene?) and fought in the Boer War under the alias of Gurn, as recounted by Marcel Allain & Pierre Souvestre. It is during that time that he met and fell in love with Lady Maud Beltham, née Greystoke.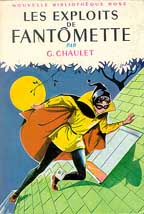 We theorize that Fandor and Hélène may be the ancestors of Fatala, a woman of mystery from the 1930s (whose exploits were also recorded by Marcel Allain), and a couple of generations removed, of Françoise Dupont, the teenage crimefighter of the 1960s known as Fantômette, whose adventures were chronicled by Georges Chaulet.

Vladimir, on the other hand, may be the father of Satanas, a master criminal whose exploits were recorded by Gabriel Bernard, who himself had a liaison with Simone Desroches, the woman who also spread terror in Paris as Belphegor (as investigated by Arthur Bernède) (herself a child of Tenebras -- studied by Arnould Galopin -- see the Gods & Monsters family tree) and fathered the modern Italian master criminal known only as Diabolik, whose exploits were recorded by A & L Giussani.